AGE PROGRESSED
JOHNNY GOSCH
September 7, 1999: Noreen Gosch, mother of the missing child Johnny Gosch, has announced that her son visited her once, in 1997. She had not told her ex-husband John, and it was the first time she mentioned this visit in public.

By Noreen Gosch's account, she was awakened around 2:30am one morning in March, 1997 by a knock at her apartment door. Waiting outside was Johnny Gosch, now 27 years old, accompanied by a man she had never seen before. Gosch said she immediately recognized her son, who opened his shirt to reveal a birthmark on his chest. "We talked about an hour or an hour and a half. He was with another man, but I have no idea who the person was. Johnny would look over to the other person for approval to speak," says Ms. Gosch. "He didn't say where he is living or where he was going."

According to Johnny, he was taken by a highly organized, very corporate global pedophile/pornography ring. Evidence links this same porno/pedophile ring to the 80's 'congressional call boy scandal', money laundering, drug running, illegal arms deals and more.Like so many others, before and since, Johnny was subjected to severe trauma and torture of a satanic and sexual nature, in order to intentionally destroy the conscious personality.... brainwashing. This intentional application of trauma is a systematic procedure used to control these victims, in order to use them in sexual slavery, pornography and more.

Noreen Gosch testified that Johnny Gosch came to provide information about his experience, ask for his mother's help and plead for her to not reveal his visit. Johnny, who is now 36 years old, told Noreen that after years of suffering tremendous torture and pain at the hands of his captors, being used and abused, he and several others escaped. They have been living in hiding under new identities and fear for their lives. People ask ... why is it necessary for someone to hide and live this way..... It is simple, Johnny can identify many of the people involved and would be a threat to the very people who took him. He is known as the "chameleon". Why? Because he can so completely change his appearance.He would like to be a part of his family once again but it isn't safe. The people who take these children also do a thorough job of brainwashing. Telling these young children that if they try to resume any kind of life with their families.... they will be killed. It is enough of a threat and fear to these young people ....that they do not try to contact their families.Johnny took a chance to come and see his mother for a very short time. He wanted to give her information, in the hope she could bring it out to the public. Information about this network of pedophiles and how they operate. He is very angry about what has happened to him and the years with his family which have been taken from him. Who could blame any of these young people for being angry at the system.

(photo: Age enhancement of what Johnny Gosch might look like at 27)


May 31, 2005: A cold case is heating up. Iowa paperboy Johnny Gosch vanished without a trace in 1982. But, now, there is new information on the case.

Last month, people on the internet and investigators like James Rothstein, a former New York City police detective, now a private investigator working the case for Johnny's mother Noreen, began to believe a man who passed himself off as a White House reporter and known male prostitute Jeff Gannon could be Johnny Gosch. And while Gannon's true identity still can't be confirmed, Rothstein says the more clues he uncovers, the possibility Gannon may be Gosch increases, "When you look into the whole abduction of Johnny, what happened, the cover-up that took place, the way the kidnapping was done, this was a professional job and it fits the profile that I have seen over the years as a professional investigator."

Former Los Angeles FBI Special Agent in Charge Ted Gunderson, now a private investigator and author of "How to Find Anyone," appeared on the "Mysteries of the Mind" radio program March 8 and claimed that he has "a credible, reliable source" that says "Jeff Gannon" is indeed kidnapped Des Moines Iowa paperboy Johnny Gosch.

Gunderson claimed that "Gannon" has scar on right cheek. Johnny's mother Noreen Gosch has looked at the mark on "Gannon" in photographs and said it was the same as that as on her son. Gunderson says that a birthmark in the "shape of South America" appears to have been removed from Gannon's chest.

Gunderson believes that Gosch took on the persona of James Gannon/Jeff Guckert and gained White House access with the eventual goal of exposing the people who kidnapped him and put him, and his family, through hell. Gannon is alleged to have a publishing deal with a Russian imprint, which some believe will result in a tell-all book that exposes those who've paid for his "services," as well as the pedophile ring that he, as Gosch, was victimized by after his kidnapping.

As for what Johnny's mother Noreen believes, "I could see some of the similarities," she says. "I could see in (Gannon) the features that Johnny had. I was told that Johnny had changed his entire appearance again after I saw him. That he shaved his head and is going with that look for now. Honestly, sometimes I think, 'oh, yeah, that looks like him,' and other times the jump is too much to think about."

Jeff Gannon @ Wikipedia
MSNBC Report: Is Jeff Gannon Johnny Gosch? (7:56)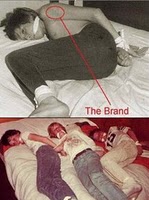 August 27, 2006: West Des Moines police confirm that they're checking the authenticity of photos that purport to be pictures of missing child Johnny Gosch. Sergeant Jason Bryan says everyone on the force knows the story of the West Des Moines paperboy who vanished on his early-morning route in 1982.

CNN reported that Gosch's mother found two photographs left at her front door, some of which she posted on her website. In the days since, she has updated the site several times with possible leads in the case.

In total, Ms. Gosch received several photos. One color photo shows three boys bound and gagged. Ms. Gosch stated that her son appears "on the right" in the first photo. A black-and-white photo appears to show 12-year-old Johnny Gosch with his mouth gagged, his hands and feet tied, and an apparent human brand on his shoulder. Ms. Gosch says he is wearing the same sweatpants as the time he disappeared. The image has a red arrow pointing to his shoulder labeled "The Brand".

Sargeant Bryan says Noreen Gosch came to police on Thursday. She brought them some photos and turned them over to the criminal-investigation unit. Bryan says the lead detective on the case is now researching their authenticity. A lot of claims by people who said they'd seen the boy, and some who said they were Johnny, over the years have been debunked, but the sergeant says this one will get the same attention as any case.

The same approach, he says -- any case that's open and active, and any new information regarding a case, is looked into to the fullest extent. "Then we go from there, basically," he says.

Detective Boyd is assigned to the case and will be working on the new photos. He isn't the original member of the force who handled it back in 1982, but currently is the detective on the case. It was September 5, 1982, when Johnny Gosch was last seen, picking up papers that had been dropped off for his regular route.

See more photos and learn more about them here.